Well!
You must be having a lot of dreams in life. You may be dreaming about anything ranging from a small vacation to a good job, a trekking expedition to a career milestone, a healthy family and home to a fun loving gang of friends and what not?
But, have you ever heard of a person who kept on dreaming about things and making plans after plans and who achieved everything he planned without moving a bit? Nopes… Never…
Dreams Won't Work Until You Work
This is the only line that is on my mind since a few days. And that's not just a line rather it is a deep truth of my life, of your life and of everyone's life.
Dreams never come true by accident or luck. A dream will always remain just a dream until you really take some efforts and start working for it. Every bit of your dreams which comes true is a result of your deliberate, proactive desires and actions to make it happen. But, where to start from?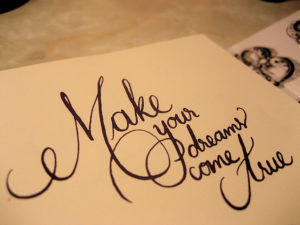 Faith and Actions
First of all, you must have faith in yourself and your dreams. With utmost faith, start backing up your dreams with small logical actions. Taking small steps ensures that each step will lead you to another one and soon the day will come when you will reach your milestone.
Motivation
Stay motivated irrespective of the hurdles or the failures that you witness. Remember nothing can make your dream an impossible thing except you yourself. Only you have the power to either make your dream come alive or to kill your dream on way. The choice is all yours.
Success Consciousness
Building up a success consciousness in your head is indeed essential. You should continuously have that positive mind set of thinking that you will achieve your dream one day. These positive vibes will really help you draw what you want from the universe itself.
Deal with Problems and Obstacles
Never ever walk away from the hurdles that come your way. These are just measures to help you become stronger and wiser and rise as a better individual. So, face them smartly using all the resources that you have.
Patience
There is no shortcut to your dreams; it is a step by step process. Be patient – your dream will take time to mature and blossom. Don't lose hope and never think of quitting.
Keep a Constant Check
Keep a constant check on your progress and the direction that you are moving towards. Getting critic feedbacks is also a great way to improve but for that you really need to listen to what people have to say. You can then, do some brainstorming and see to what extent are their advices or suggestions appropriate. These reviews and check on the effectiveness of your progress is to ensure that you are on the right track.
Remember, No Dream is Too Big for a Man who is Determined To… 🙂
Share your dreams out in the comments section. Stay tuned, keep reading, keep sharing and let smiles shine…
Also Read: The Journey of a Thousand Miles Starts with a Single Step…