Hi Folks!
Life brings you reasons to celebrate each morning, each moment. You just need to perceive them, untie the gifts that the rising sun brings and celebrate!
You must be wondering where did that come from??? Well! It's just the effect of all those 'Happy Birthday Hritik Roshan' posts that were flooding my Facebook News Feed last day. Fans and Friends of the star were celebrating the day as if it was their own birthday!
How many of you belong to Hritik's fan club? I do; he is my all time favorite. Not only because of being a great actor or because of his stunning dance moves but because I find him nice as a person. All that I know about him from his quotes, whatever I have read about him, it seems that he is a strong individual who has the courage to take charge of his life, give his best inputs even when the going gets tough, is no where in controversies or conflicts with his fellow actors, even after belonging to the world of glamour and much more. He inspires!

Actually everyone who is that strong and determined owes respect in my eyes and is surely an inspiration. There is one name in my mind as I type this line (not yet to be disclosed :p)
Here I wish a very happy belated birthday to the star!
The day is over but the celebration isn't!!! Since, today, 11th January calls for another reason to celebrate in my life. It is the birthday of a beloved friend of mine: Prateek!
We are school mates, who know each other since around 19 long years (just 3 years less than my age :p). We have not always been together all this while but have always remained connected!! That's what friendship is all about… It is about staying connected and being there for each other even when miles apart.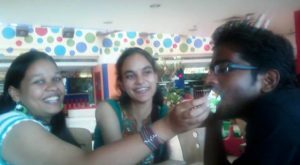 So, today let's wish my childhood friend Prateek a very Happy and Fruitful Birthday… May he be blessed with everything that he deserves and may he deserve all that he desires for.
Today, make some time out of your bustling life and make an effort to connect with a friend you haven't contacted since long. Have a heartfelt talk, giggle and celebrate… because life is meant to be lived celebrating…
So, keep celebrating, stay tuned, keep reading, keep sharing and let smiles shine…